Peace Cranes was a project about peace, people and planet exploring the twin existential threats of nuclear weapons and climate change. It was manifested through a series of contemporary art exhibitions and events across Edinburgh and online since 6 August 2020 until 3 September 2022.
Through artist's films, drama, photography, installations and poetry, we explored the humanitarian and environmental consequences posed by the Russia's invasion of Ukraine, together with the nuclear power accidents at Chernobyl and Fukushima, as well as the dropping and testing of the atomic bomb in Japan, Soviet Russia and the Marshall Islands.
It featured works by Scottish and international artists and activists, including Es Devlin (England), Ian Dodds (Scotland), Maxim Dondyuk (Ukraine), Alla Georgieva (Ukraine/Bulgaria), Su Grierson (Scotland), Janis Hart (Scotland), Madelon Hooykaas (The Netherlands), Kathy Jetnil-Kijiner (USA), Peter Kennard (England), Dan Lin (USA), Michael Mears (England) Alena Rogozhkina (Ukraine/Scotland), Donna Riddington (England/New Zealand), Keiko Sato (Japan/The Netherlands), Makana (USA), Pam Skelton (England), Elena Subach (Ukraine), Daria Svertilova (Ukraine), Edward Thompson (England), Mare Tralla (Estonia/England), Machiko Weston (Japan/England), You-Ri Yamanaka (England/Japan) and Helen Zhgir (Ukraine).
Peace Cranes was curated by Iliyana Nedkova and Heather Kiernan.
A project by Peace & Justice (Scotland), it was delivered with the support of various partners, volunteers, backers and funders. It was curated in conjunction with COP26 – UN's Climate Summit, UN's International Year of Peace and Trust, Maverick Monologues, Stitches for Survival, Geoffrey and Elisabeth Carnall Peace Award, CHRNBL International Forum, Kiev Biennale of Digital and Media Art, Just Festival, Our Edinburgh, Hiroshima75 and Nagasaki75
#peacecranes linktr.ee/PeaceCranes
---
CONSEQUENCES: VARIOUS ARTISTS AND ACTIVISTS
The Peace Cranes project culminated with Consequences. Art and Activism in the Nuclear Age – our exhibition of contemporary art at Edinburgh's Out of the Blue Drill Hall, 36 Dalmeny St, Edinburgh EH6 8RG. Free and open to all 16 August – 3 September 2022 Monday – Saturday 10am – 5pm (except 27 August 2022). The exhibition was accompanied by a 24pp exhibition leaflet featuring a curatorial introduction, artists' statements and a floor plan checklist. FURTHER DETAILS HERE
---
The exhibition was also accompanied by a series of free events, including:
Exhibition Vernissage featuring poetry readings by Ukrainian and Scottish writers Kateryna Babkina, Natalka Bilotserkivets, Lyubov Sirota, Kathleen Jamie, Gerry Loose, Jim Mackintosh, Alan Spence and Samuel Tongue. Presented on 19 August 2022. Further details HERE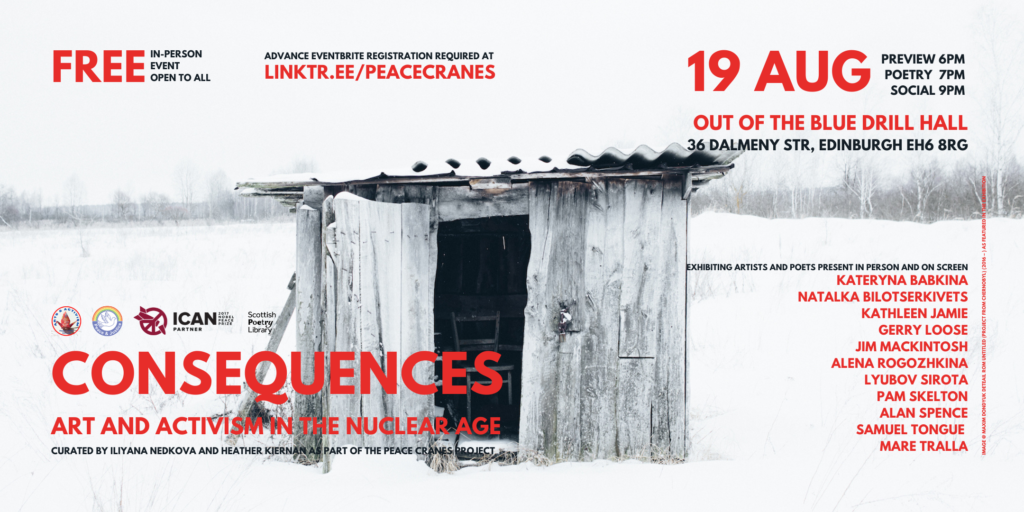 Creative workshop led by exhibiting artist Alena Rogozhkina. Presented on 2 September 2022. Further details HERE.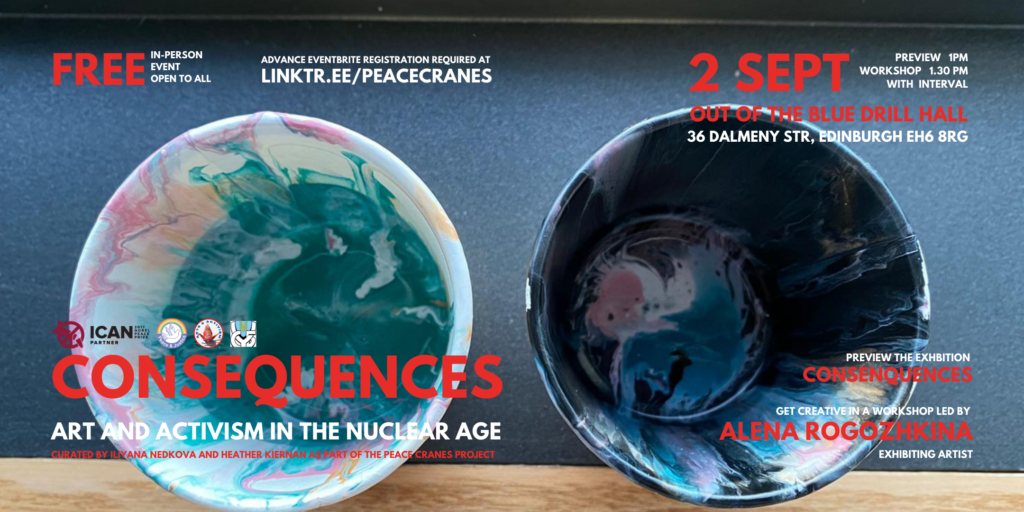 Exhibition Finissage featuring a performance by Protest in Harmony Choir and a screening of The Vow from Hiroshima – a documentary about Hiroshima survivor and anti-nuclear campaigner Setsuko Thurlow. Presented on 3 September 2022. Further details HERE.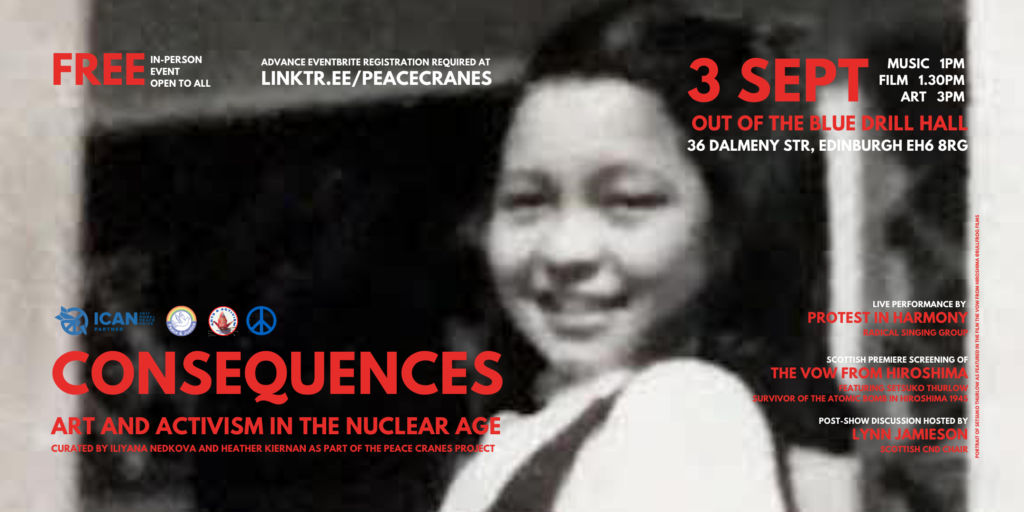 Curatorial selection of poems introduced weekly July – September 2022, including new and old favourites by Bob Dylan, Nâzim Hikmet, Daniel Berrigan, Sadako Kurihara, Lyubov Sirota, Lyuba Yakimchuk and more. Presented on our dedicated Facebook page HERE
---
CODE RED: PETER KENNARD
A print installation of 28 photomontages by one of Britain's foremost political artists Peter Kennard. Previewed on 5 November 2021 6-8pm at The Out of the Blue Drill Hall, 36 Dalmeny St, Edinburgh EH6 8RG. Exhibition continued 6 – 26 November 2021 FURTHER DETAILS HERE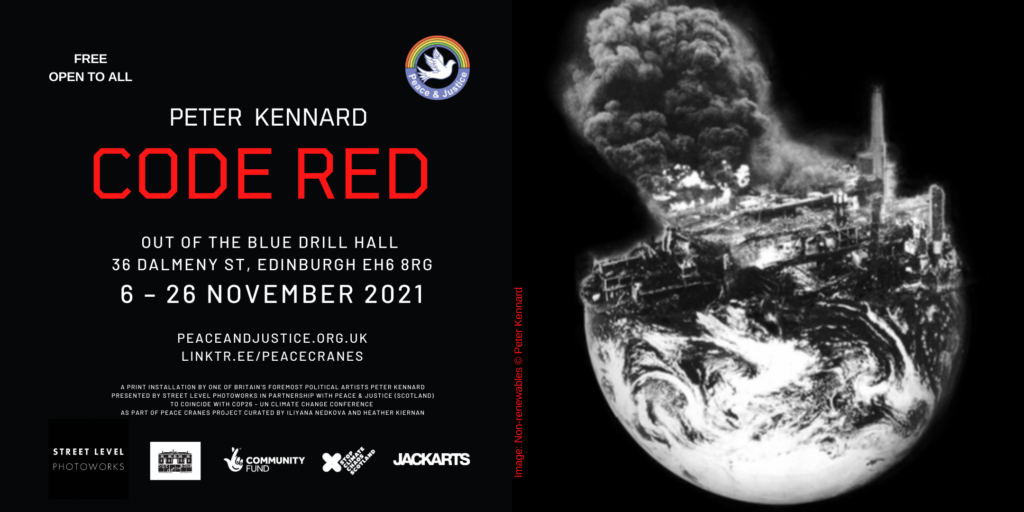 ---
PEACE CRANES: JANIS HART
An installation by Scottish artist Janis Hart featuring 140,000 origami cranes showing 6 August – 13 November 2021 at St. John's Church, Princes St, Edinburgh, EH1 4BJ. Free entry. Open to all. Monday – Saturday 10:30am – 4pm excluding Wednesdays 11am – 11:30am FURTHER DETAILS HERE

THE MISTAKE: MICHAEL MEARS
A rehearsed live reading of a compelling new play about the day the world changed forever with the dropping of the first atomic bomb by award-winning actor and playwright Michael Mears. Shown on 13 November 2021 2.30-4.30pm at the The Parish Church of St Cuthbert, 5 Lothian Road, Edinburgh, EH1 2EP. FURTHER DETAILS HERE
---
ATSUKO: YOU-RI YAMANAKA AND HEATHER KIERNAN
A rehearsed reading by actor You-Ri Yamanaka of a new maverick monologue by Heather Kiernan about Atsuko Betchaku (1960-2017) who began the wave of folding 140,000 peace cranes. Presented online on 20 October 2021 at Maverick Monologues 11 hosted by Heroica Theatre Company. FURTHER DETAILS HERE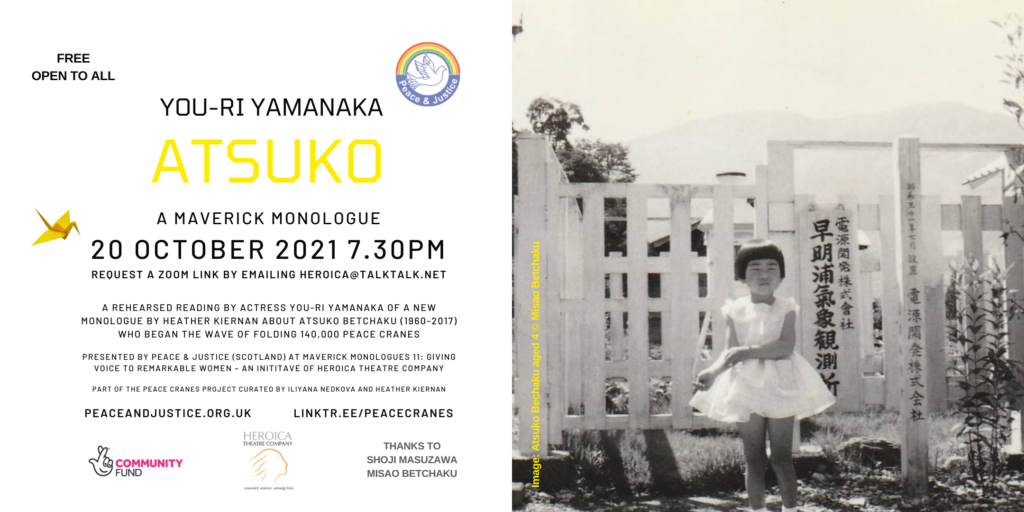 ---
PEACE CRANES COP26 PROTEST BANNERS: DONNA RIDDINGTON
A workshop about making COP26 protest banners as part of the Stiches for Survival campaign led by independent visual artist and activist Donna Riddington presented online on 16 October 2021. FURTHER DETAILS HERE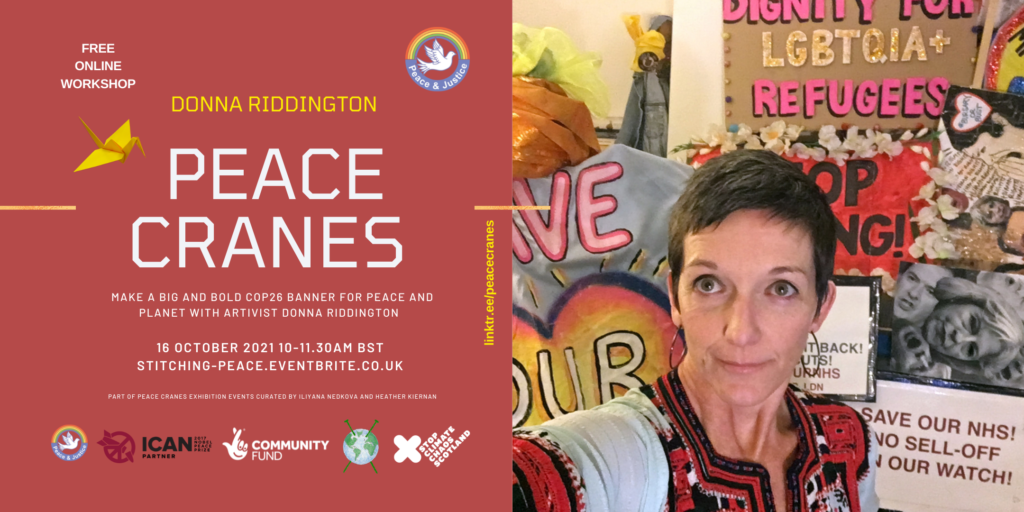 ---
CHERNOBYL MON AMOUR: PAM SKELTON
Film premiere of Chernobyl Mon Amour – a new artist's film by established British artist Pam Skelton exploring the nuclear disasters of Chernobyl 1986 and Hiroshima 1945. Presented at CHRNBL International Forum on 7 October 2021. FURTHER DETAILS HERE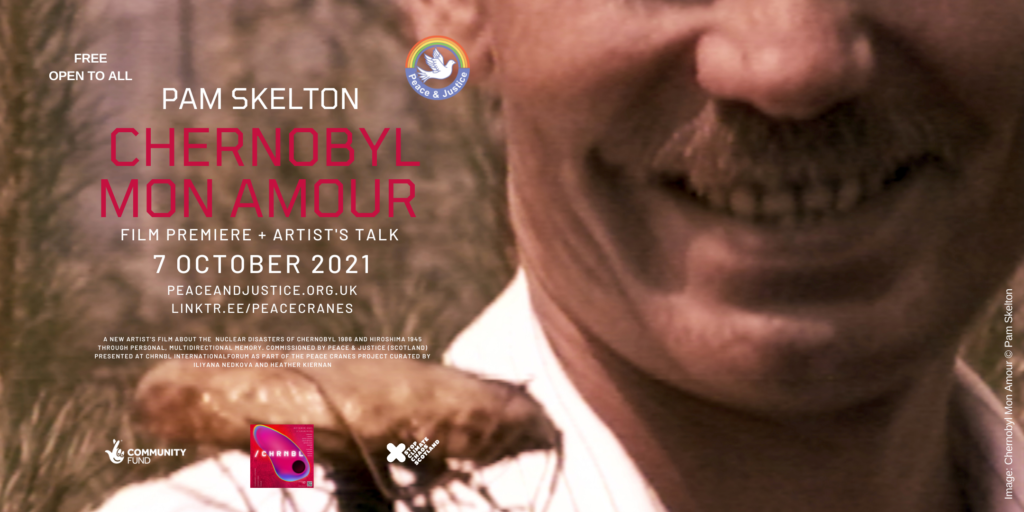 ---
VOICE OF THE RAINBOW: SHATHA ALTOWI AND SABER BAMATRAF
An evening of music, film and debate with Yemeni artists and human rights defenders exploring how art and culture contributes to peacebuilding held online on International Day of Peace, 21 September 2021 as part of the first Geoffrey and Elisabeth Carnall Peace Award. FURTHER DETAILS HERE
---
PEACE CRANES: JANIS HART AND IAN DODDS
A cinematic installation by artist Janis Hart featuring carbonized trees, garlands and a circular screen projection of a creative documentary in collaboration with filmmaker Ian Dodds presented 6-27 August 2021 at St. John's Church, Princes St, Edinburgh, EH1 4BJ. FURTHER DETAILS HERE
'The film Peace Cranes by Ian Dodds and Janis Hart is devastating, so affecting, the circle like a lens magnifying the suffering and the white screen at the end, staring at it. Thinking of the footage and the testimonies – beyond words. So important that it gets shown wherever and whenever it can be' Peter Kennard
Peace Cranes cinematic installation view © Victoria Murray. Courtesy of the artist
---
Explore our past Peace Cranes project exhibitions and events here – all free and available to download, read and watch again – including a film about Atsuko Betchaku by Iliyana Nedkova, public talks with Pam Skelton, Shatha Altowi, Saber Bamatraf, Peter Kennard, Kate Hudson, Damon Bridge and Hywel Maggs, a dance with Sara Lockwood, and a blog by Brian Larkin.
Tune in our Peace Cranes five-hour-programme of online events in 2020, including live theatre performances with Michael Mears, artist's films, storytelling sessions, curatorial talks, artists' Q&As and an origami peace crane folding masterclass with Shoji Masuzawa.

The Peace Cranes project is the latest contemporary art initiative of Peace & Justice (Scotland) – an independent charity, building a culture of peace across Scotland since 1980. Peace & Justice is one of the partners of the International Campaign to Abolish Nuclear Weapons (ICAN) who campaigned for the UN's Nuclear Weapons Ban Treaty. ICAN was awarded the Nobel Peace Prize 2017 for its successful work that led to the Treaty on the Prohibition of Nuclear Weapons entering into force in 22 January 2021.
#PeaceCranes
Tackling climate change with the Eurasian Crane
Watch our Peace Cranes exhibition event in partnership with Just Festival 2021 held on 27 August 2021 (61 min). Hosted by Mark Hoskyns-Abrahall, it featured Damon Bridge of UK Crane Working Group, Stephen Magee and Hywel Maggs of RSPB Scotland discussing the expansion of Scotland's Eurasian crane population and the complex impact of climatic changes, migration, breeding seasons, milder winters, biodiversity, peatbogs, wetlands, wildlife photography and agriculture. Could the majestic crane be Scotland's wetland icon for restoring peatlands and sequestering carbon?
140,000 Peace Cranes
Watch our short documentary (3 min) about Atsuko Betchaku – the Peace & Justice volunteer who sparked the international wave of folding 140,000 peace cranes. Written and directed by Iliyana Nedkova this short film features contributions by Margaret Ferguson Burns, Niloo-Far Khan, Mrs Betchaku, Jeff Brown and many more.
Make a peace crane
Learn how to make an origami crane with Peace & Justice volunteer Shoji Masuzawa. Just WATCH HERE at 14:03 in. Alternatively, follow our Peace Cranes step-by-step diagram. Just DOWNLOAD IT HERE. A couple of suggestions:
Write your name on one of the wings
Write a wish on the other wing
Take photo with your peace crane and post on social media with #peacecranes
Take action
Find out more about the facts and figures which have inspired us as artists and curators to create this monumental exhibition about peace, people and planet. We have compiled an illustrated 24 page booklet – free and available to read while visiting our exhibition in-person or from anywhere else by accessing your copy here: DOWNLOAD HERE
---
Crowdfund with us
Donate to our crowdfunding campaign and make peace cranes soar to the skies over Edinburgh! We need to raise a further £3,500. The money we've raised so far, including from Pumphouse Trust, Creative Scotland Open Fund, the William Syson Foundation and Lansbury House Trust Fund, has paid for our initial work. But we need to raise a further £3,500 towards the cost of the installation, insurance, invigilation, workshops, talks and tours as we aim to reach 140,000 exhibition visitors on site and online. DONATE HERE
---
Impromptu Movement
Watch an improvised movement (approx 5 min) performed live amongst the Peace Cranes installation by Sara Lockwood of the dance collective Les Impromptues on 27 August 2021 as part of their Impromptu Movements series of 'pandemic solos' 2020-21. Recorded live and published online, each Impromptu Movement responds to a new location and is inspired by the repertoire of the modern dance pioneer Margaret Morris (1891-1980). Yet each impromptue inserts her own variations, improvisations, and costumes extending Margaret Morris signature style movement even further. Camerawork by Paparazzi Pup.
---
DEDICATION
The Peace Cranes exhibition is dedicated to three outstanding peacebuilders and their life-affirming act of folding origami peace cranes.
The first is Sadako Sasaki (1943-1955) – the Hiroshima school girl who still signifies our hopes for peace and nuclear disarmament.
The second is Peace & Justice volunteer Atsuko Betchaku (1960-2017) – a historian and pacifist. In 2015, Atsuko embarked on an international collaborative project of folding 140,000 origami peace cranes – one for each of the 140,000 people who were killed by the atomic bombing of Hiroshima in 1945, as a way to ensure that this will never happen again. In memoriam of Atsuko, the Peace Cranes exhibition marks the United Nations Treaty on the Prohibition of Nuclear Weapons which entered in force on January 22, 2021. Watch this short documentary about Atsuko written and directed by Iliyana Nedkova.
The third is an equally inspiring woman, Setsuko Thurlow (b. 1932) – a Hibakusha and a joint Nobel Peace Prize Laureate for her efforts as a leading figure and a founding member of the International Campaign to Abolish Nuclear Weapons (ICAN). Read the Nobel Lecture 2017, delivered by Setsuko Thurlow on behalf of all who form the ICAN movement, including Peace & Justice.
The Peace Cranes exhibition is also inspired by the dedicated climate justice activist – Mary Robinson (b. 1944) – a former president of Ireland and Chair of The Elders – the international non-governmental organisation of elder global leaders, peace activists, and human rights advocates, who were brought together by Nelson Mandela in 2007 – and their #PeaceCranes2020 initiative remembering Hiroshima and Nagasaki by inviting anyone to fold a peace crane.
To find out how the Peace Cranes project originated READ HERE
---
Watch over seven hours of free Peace Cranes online events held in August and November 2020 featuring Peace Cranes exhibiting artists and activists commemorating the 75 th anniversary of the atomic bombings of Hiroshima and Nagasaki
6 August 2020 10am BST | Peace Cranes | 49 min – an origami making and storytelling workshop featuring Iliyana Nedkova, Brian Larkin, Shoji Masuzawa, Magnus Byrne, Michael Mears, You-Ri Yamanaka and Jeff Brown WATCH HERE
6 August 2020 6pm BST | The Message | 6 min– artists Michael Mears and You-Ri Yamanaka deliver a message sent by Kazumi Matsui, the Mayor of The City of Hiroshima on the occasion of the Peace Cranes pre-exhibition events WATCH HERE
6 August 2020 7.30pm BST | The Priest's Tale | 60 min – a new play written and performed live by Michael Mears featuring Chihiro Ono (violin) WATCH HERE
9 August 2020 7.30pm BST | The Doctor's Tale | 90 min – a new play written by Michael Mears and performed live by Leo Ashizawa with support from Michael Mears and Chihiro Ono (violin) WATCH HERE
22 August 2020 4pm BST | The Mistake | 16 min – a short film version of Michael Mears' play in the making directed and edited by Jatinder Verma. Featuring Michael Mears and You-Ri Yamanaka WATCH HERE
22 August 2020 4pm BST | The Mistake | 77 min – post-screening Q&A with Michael Mears, You-Ri Yamanaka, Iliyana Nedkova and Helen Trew WATCH HERE
Peaece Cranes online events as part of the 40th anniversary of Edinburgh Peace & Justice Centre and its relaunch as Peace & Justice (Scotland)
19 November 2020 6pm GMT | 120 min | Peacebuilding and the Arts? Could Peace Cranes contemporary art exhibition help us tackle the nuclear and climate emergency? WATCH HERE OR JUMP TO SEGMENTS BELOW
Jolyon Mitchell 25 min | Peacebuilding and the Arts WATCH HERE
Kate Ive 13 min | Opposing War Memorial WATCH HERE
Fiona Oliver-Larkin 8 min | Peacebuilding for young people through drama and storytelling WATCH HERE
Iliyana Nedkova 17 min | Peace Cranes exhibition including new site-specific installation research by artist Juliana Capes WATCH HERE
Alison Johnstone MSP 3 min | Peace & Justice (Scotland) Relaunch WATCH HERE